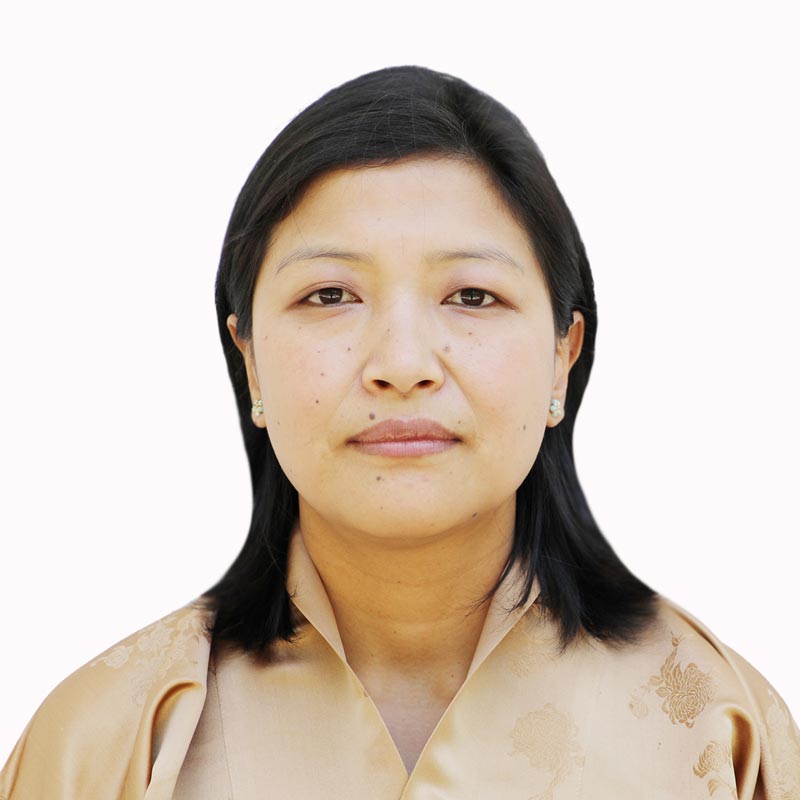 Dema Lham
Biography
Dema Lham is an Assistant Professor specializing in Criminal Law, Criminal Justice, Restorative Justice, and Human Dignity. In 2016, she co-taught a course on Law and Development at the University of Vienna. She is also the Director of the Human Dignity Clinic and currently the Child Justice Working Group Member and Technical Reference Group Member for mapping the Justice for Children Workforce.
Before joining the faculty in 2015, Dema Lham worked as a senior legislative officer at the National Assembly Secretariat in the past. She is the recipient of the Legislative Fellows Award (2010). At the National Assembly, she was also the committee secretary to two important Parliamentary committees: the Legislative Committee and the Human Rights Committee.
She received her Master of Law with a specialization in Criminal Justice and Criminology at the University of New South Wales (Australia), Post Graduate Diploma in National Law from the Royal Institute of Management, and her B.A LL.B from Government Law College Mumbai, India.
Dema is the co-author of Criminal Defences under the Penal Code of Bhutan (JSW Law Publishing series, 2020). Her most recent papers have examined the effectiveness of harsh punishment. Her research paper has been published in academic journals such as the Asian Journal of Comparative Law and Forum for Development Studies.
Areas of Interest
Penal Law: Criminal Justice; non-custodial and alternative sentencings

Restorative Justice with a focus on Children and Young People

Access to Justice for Persons with Disabilities

Legal responses to violence against women and children
Publications
Yeo, Stanley, and Lham, Dema, Criminal Defences under the Penal Code of Bhutan (2020)

Dema Lham (2020), Public Hearing: an effective participatory mechanism?, Legislative Journal, Vol 4-Issue 1

Dema Lham (2020), Restorative Justice for Children in Conflict with Law: Diversionary measures as an alternative to Prosecution and Judicial Proceedings, Bhutan Law Review, Vol. XIII, February 2020, p 57-67

Dema Lham & Stanley Yeo (2019) The Penal Code of Bhutan: Broken from the start? Asian Journal of Comparative Law 

Stephan Peter Sonnenberg & Dema Lham (2018) But Seriously Now….Lawyers as Agents of Happiness? The Role of the Law, Lawmakers, and Lawyers in the Realization of Bhutan's Gross National Happiness, Forum for Development Studies, 45:3, 461-483
Courses
Penal Law and Restorative Justice
Human Dignity Clinic
Research Electives on Penal Law and Restorative Justice
Criminal Procedure and Evidence Law
Co-taught Human Dignity
Co-taught Law and Development
Education History
Bar Admission 2021

University of New South Wales, LL.M, 2017

Royal Institute of Management, Post Graduate Diploma in National Law, 2007

Government Law College, B.A LL.B, 2006