Preservation of indigenous flora at the JSW Law campus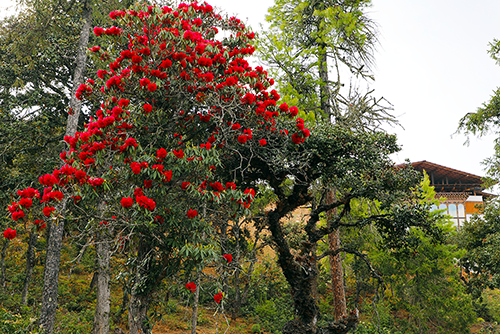 As a part of its commitment to maintaining a green campus, JSW Law seeks to preserve the indigenous flora as a part of its natural environment. With your support, JSW Law will plant and maintain for every $500 gift made, one tree or perennial plant native to Pangbisa on its 123 Acre campus. The plant will be adopted by a new student at JSW Law, who will send you a photo of the adopted plant every year until they graduate from JSW Law (5 years). By doing this, we hope to provide the student a hands-on experience in taking responsibility for as well as appreciating their environment.
This support will also help us maintain our Rhododendron Garden, which was created and developed to commemorate the 40th Birth Anniversary of The Honourable President, Her Royal Highness Princess Sonam Dechan Wangchuck. Additionally, funds raised will also support the Oak Garden, which was established to preserve the indigenous oak species on campus.
We hope that through these efforts and your support, we can continue to protect our environment and play a meaningful role in continuing Bhutan's efforts at remaining carbon negative.
Click Here if you wish to give to the Preservation of Indigenous Flora Project at JSW Law, please add the following code in the subject line, if using donorbox: PIF
If you are donating through other means, please let us know at giving@jswlaw.bt if your donation is meant specifically for this project. Thank you!