Give to JSW Law Sustainability Fund
JSW Law Sustainability Fund
While Bhutan has received plaudits from around the world for its effective response to the Covid-19 pandemic, unfortunately, these measures have had a significant impact on the national economy. As a publicly-funded law school, JSW School of Law has shouldered its share of the financial burden over the last year, cutting or deferring programmes and expenses as needed in order to support the national efforts. As we enter the second year of pandemic-related measures and as JSW Law prepares for an exciting move to a new campus, we seek to raise US$100,000 designated for operating support to help sustain JSW Law through these difficult times.  Gifts of $40,000 have been raised to date, including a 1:1 match by White & Case Chair Hugh Verrier and Karuna Foundation President Eric Lemelson.  Gifts up to an additional $20,000 will continue to be matched by these donors.  Gifts will support: :
New Campus

: Equipment, computers, furniture that cannot be funded through government support.

Law School Operations

: Faculty research and conferences; food and security for campus events.

Student Activities

: Externships in 10

th

semester, due to begin in Spring 2022.

Technology Infrastructure

: ICT structure to enable and improve online learning and events.
Click Here if you wish to give to JSW Law Sustainability Fund, please add the following code in the subject line, if using donorbox: JSF
If you are donating through other means, please let us know at giving@jswlaw.bt if your donation is meant specifically for this fund. Thank you!
---
Access To Equal Justice Is Essential: JSW Law's Human Dignity Clinic Leads With Compassion
Thank you to the large group of supporters from higher education, government, non-profits, and the public sector who attended our second virtual webinar in the JSW Law Sustainability Series.  Focused on the critically important topic of Human Dignity, this was the very first event hosted from our new campus in Pangbisa, Paro!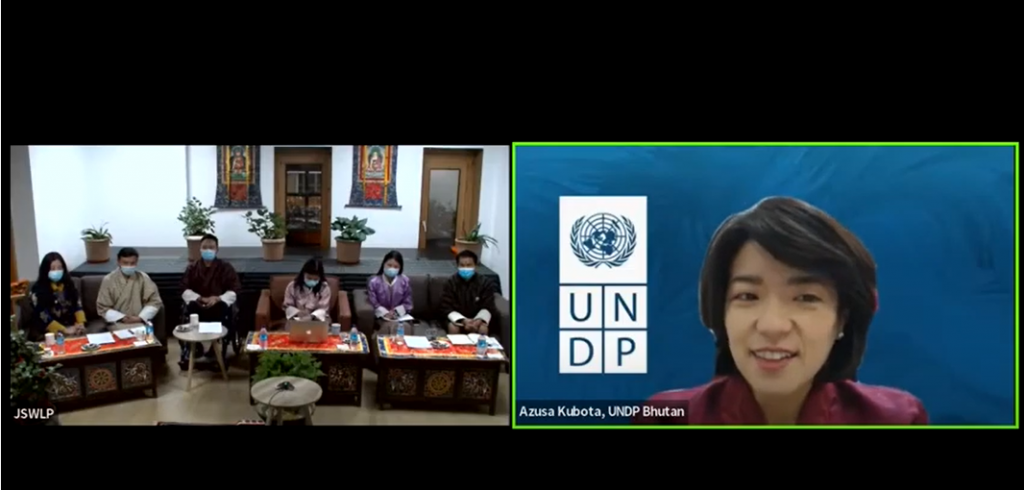 On May 3rd, our welcoming host and special guest Azusa Kubota, the UNDP Resident Representative for Bhutan, emphasized that access to equal justice is essential to sustainable development, more important now than even before following a pandemic-related growth in inequality around the world.  She applauded JSW Law's Human Dignity Clinic for addressing the lack of access to legal services among the vulnerable in Bhutan, and for nurturing future lawyers with purpose and a broad commitment to social justice.
The panel discussion explored the work of the Human Dignity Clinic, featuring Director Dema Lham as well as clinic students and clients in describing how such tools as legal advice, informal strategies, evidence-based solutions, and task forces have been deployed to advance the well-being of children in conflict with the law and persons with disabilities in Bhutan.  Confronted with a lack of awareness of their legal rights and a lack of funds for legal services, vulnerable people in Bhutan are often reluctant to come forward in the face of violations to their human dignity. 
One of the most important roles of the Human Dignity Clinic has been to include such members of society in developing guidelines, handbooks, and materials to improve Bhutan's systems, hearing their concerns, incorporating their suggestions, and – most importantly – directly improving their access to justice.
Please view this short video on JSW Law's Human Dignity Clinic to meet some of the young lawyers we are training, as well as their inspiring clients.
You can also click here to see the video of the entire webinar.
Thanks to the donors who have brought us to the halfway mark in response to the matching grant to our Sustainability Fund!  Please help us to meet the full match of $40,000 and click here to make your gift on-line today.
Many thanks and we hope to see you on our next webinar, to be organized by JSW Law students on the topic of cultural preservation on 29 June 2022, 7:00 PM Bhutan Standard Time, 9:00 AM EST.